Want the performance benefits of a solid roof but like the bright and airy appeal of a glass conservatory roof?
With the LivinROOF you can have the best of both worlds.
The LivinROOF system from Nexus combines solid and glazed roofing seamlessly, offering increased flexibility in design and improving the thermal efficiency of your home and at the same time allowing natural light to enter a living space.
LivinROOF is constructed from insulated composite external panels and Kingspan slab insulation, which are strong and robust yet extremely thermally insulating.
Glass panels can be inserted to replace any of the aluminium roofing panels, in any shape, enabling you to maximise the light in your conservatory to produce very contemporary or bespoke designs unlike any other on the market.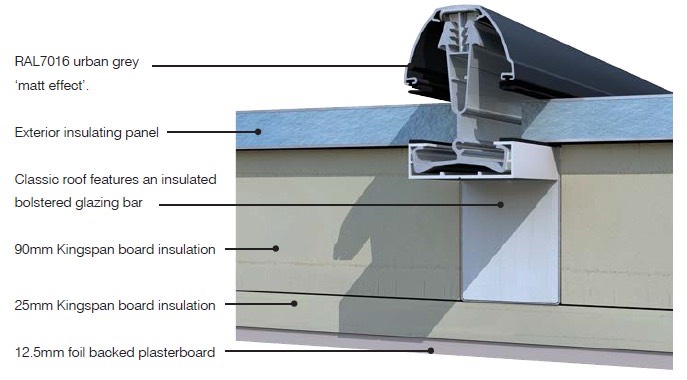 • All Livinroof designs come complete with the internal pelmet perimeter ceiling system as standard, not only providing the perfect place for spotlights and speakers, but it gives the effect of lifting the vaulted ceiling, giving a light airy feel to the new room.
• Livinroof can incorporate the Classic Cornice – hiding the guttering and giving your conservatory a modern, aethestically pleasing feature
• Externally the Livinroof is finished in urban grey to compliment any housing style and give a contemporary look.
• The Livinroof is quick to install compared to other solid roofs on the market and because of its prefabricated design, doesn't require any onsite cutting, reducing
Alternatively there is an option of a suspended ceiling, allowing you to continue the ceiling height from an adjoining room.
LivinROOF is finished in urban grey to compliment any housing style and give a contemporary finish in any RAL colour
Give Nexus a call for free quote and design ideas